With demand for non-ferrous metal castings increasing in volume especially the castings of aluminum and aluminum alloy, there is also a growing pressure on foundries to improve casting quality. In order to remove impurities from the melt to provide cleaner, better quality metal, one of the most common and effective cleaning methods used by foundries is rotary degassing. With the increasing global tonnage and quality demand for aluminum castings, increasing globalization of the industry and increasing competition between foundries, so they have to run the most efficient and cost effective processes possible in order to offer price competitive castings on a global scale.
High Performance Graphite Rotors and Shafts
Although several material systems are available commercially for degassing rotors, the industry is dominated by machined graphite, in a two part assembly format, incorporating a separate shaft and rotor head. However, conventional graphite rotors easily degrade during use as the shaft and rotor head erode. As the rotor headgeometry degrades the efficiency of hydrogen removal reduces with time. Eventually the rotor head efficiency is reduced and the shaft thins to a point that breaking occurs and the rotor assembly has to be replaced. Given this failure mechanism, improved efficiency of the rotary degassing process should be achieved through improved material and rotor head design to increase the service life and maintain performance of the rotors compared to those currently available to foundries.
CGT Carbon was prompted to improve the normal oxidation resistant impregnated graphite to achieve higher quality castings. Intensive investigations with the existing rotor, combined with theoretical studies, simulations, extensive modeling and practical tests have culminated in the development of our new high performance rotor.
We use a unique oxidation resistance treated method for the graphite rotors and shafts which significantly increase the oxidation and erosion resistance.
We optimize the rotors and shafts design to achieve better distribution of the nitrogen gas into the melt in the degassing process.
Based on the Broad Carbon Graphite Technologies and the Continually Increasing Know-how, we offer graphite rotors and shafts with an outstanding level of quality and the highest degree of reliability.
Case Study - Graphite Rotors and Shafts
CGT Carbon's graphite rotors and shafts have been compared with the conventional rotors and shafts in numerous foundries from their actual works of aluminum refining and casting. Our unique anti-oxidation treatment graphite rotors and shafts have been proved to last an estimated 5 times longer than that of the conventional anti-oxidation treatment graphite rotors and shafts. The final results from the actual works are shown in the below comparison photograph: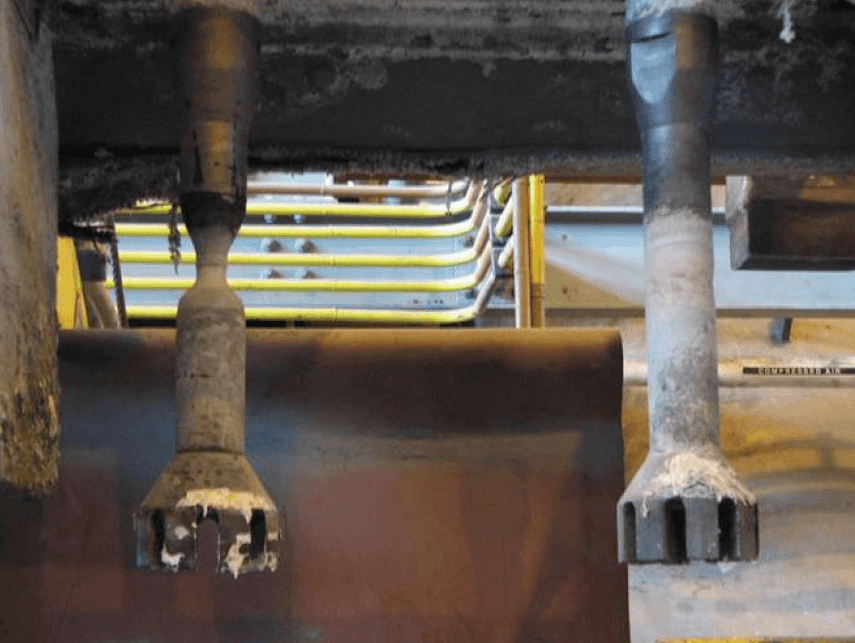 Compared with the industry standard impregnated graphite rotors which currently dominate this application, the erosion of our graphite rotors and shafts was considerably reduced and the rotors and shafts also displayed a more non-wetting surface, making it much easier to keep clean. CGT Carbon's high performance rotors and shafts with unique oxidation resistance treatment can provide foundries with a far longer service life, both in terms of durability and degassing efficiency.
Graphite Degassing Components
We supply manufactures full range of graphite degassing components for metal processing. All below graphite components are available with oxidation resistant treatment for extended products service life:
fluxing tubes
graphite rotors
graphite shafts
specialized degassing heads
Graphite Rotors and Shafts with Advanced TRIPLEX protection
Even higher requirements of aluminium industry for the highest quality and service life of stirrers, require progressive approach to solving the problem of demanding conditions of aluminum degassing.
For production of these new advanced stirrers, we use the highest quality materials and a new approach to surface protection.
The key feaures of components with TRIPLEX protection
For machining we use the highest quality graphite, with fine grain and high density, providing already the base material with better oxidation resistance.
To further enhance the oxidation resistance we use special AOX treatments, that penetrates deep into the pores of the graphite stirrers.
On top we use the most advanced treatment of the surface, using specially chosen ceramic substances, that together and mutually provide protection against erosion, and at the same time provide the surface with better non-wetting properties. This protection efficiently protects the surface against oxidation and wear, enabling to achieve increased life-time.
The stirrers with advanced TRIPLEX surface protection are especially suitable for use in in-line continuous degassers, where their longer service life enable for longer runs and shorter down-time, thus achieving higher output of the degasser.
There are numerous advantages also for batch degassing, as TRIPLEX surface protection enables for better cleaning of the shafts and rotors surface, providing better efficiency of cleaning and longer service life of the stirrers.
Applications of Degassing Components
CGT Carbon's graphite degassing component is the best choice for purifying and degassing of molten metal in the following industries:
aluminum and aluminum alloys manufacturing
zinc and zinc alloys manufacturing
magnesium and copper manufacturing
precious metals and their alloys manufacturing, etc.
CGT Carbon Advantages to offer Graphite Degassing Components
unique oxidation resistant
custom parts available
CAD, CAM, CAE and advanced UG software for design and machining
extensive CNC machining capability
low permeability
broad industry experience
many years of graphite manufacturing
extensive engineering services
Contact us for more information on graphite rotors and shafts and our special coatings that extend rotors lifespan.
We recommend to use this material in the following applications: